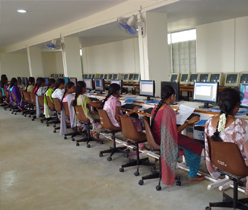 The Department of Computer Science and Computer Applications was started in the year 1998. The department comprises of skilled and dedicated faculty members headed by professors. This, combined systematic teaching methodology and syllabus in line with the current technology, has ensured excellent results at both university examinations as well as competitive examinations substantiated by the long track record of university ranks and an outstanding placement performance. There are ample opportunities for those inclined towards research as well, with experienced faculty and a wealth of resources.

In order to fulfill the objective of achieving academic excellence, the department is equipped with all infrastructure viz. highly qualified teaching faculty and a sophisticated library, housing volumes of text books and periodicals. Department has well qualified and experienced teaching faculty and technical staff with state of the art laboratories to meet the requirements of quality education warranted by the present day challenging societal and industrial needs. Department is involved in research activities in the areas of Computer Vision & Image Processing.

The department offers Four Under Graduate Programmes BCA, B.Sc(CS), B.Sc(CT) & B.Sc(IT) and Three Post Graduate Programmes M.Sc(IT), M.Sc(CS) & M.C.A. Faculties of the department are well qualified and also have excellent experience in the field of teaching. The Department has 16 well Qualified Faculty Members with rich experience. At present the enrolled strength of the department is around 350 Students. The department through its association organizes National and International Level Conferences, Guest Lectures, Workshops, Industrial Visits etc., for the student so that they equip themselves to be a part of the society and make contribution.