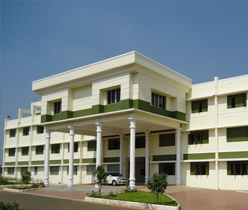 Basic Infrastructure All the programs are conducted in the main building. It has independent staff rooms, comfort rooms with 24 hours water facilities, UPS for the computer centre's, RO water purifiers, well connected public transport facility, round the clock water and electricity facilities and a play ground for both UG and PG students.

Supporting infrastructure

The following supporting infrastructure facilitates the students:

• Spacious and well ventilated lecture halls, seminar/conference halls, separate comfort rooms for students and the faculty and modern furniture to suit the needs of today's higher learning;
• Teaching aids such as audio visual aids, multi-media projectors, overhead projectors, LCDs, Amplifier-speakers, cordless collar microphones etc.,
• Laptops, broadband internet connectivity, UPS for computers, printers, scanners etc.,
• Most of the departments have separate computer labs with internet connectivity;
• The staff rooms are also equipped with computer systems, printers/scanners/copiers with internet connectivity;
• A PG library with ample copies of text books and reference books and their multiple copies of national and international repute
• Subscription to numerous journals and periodicals, newsletters and leading newspapers.
• A counseling centre, a separate administrative office, and a spacious waiting lounge for students with comfortable steel alloy chairs;
• A sports room with indoor/outdoor sports facilities and Xerox centre cum stationery mart and a milk parlor; ample parking space for vehicles with a caretaker, the service of private security agency for night watch;
• A make-shift canteen facility is available in the college premises.
• The placement and career guidance cell of the college trains the students in soft skills and enables students face interviews with ease.
• A suggestion box inviting suggestions from stakeholders of the college is being put up at the strategic point in the college.
• Dust bins are provided at vantage points to nurture sense of cleanliness in students.