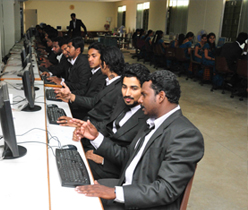 Department of management studies offers a competent academic environment with adequately built-up labs and library resources to support management students in their pursuit of excellence in all their endeavors every sector of life. Teaching and learning processes at management department are to develop the talent competency tuned up to the real time requirement of working environment.

In the wake of Globalization, management education is becoming promising demanding and fruitful for getting into MNCs, consultancy services, foreign trade, hospitality and service industries. Students of BBA can pursue higher education reading to in MBA, PG Diplomas in Business Administration, HRM, International trade, Finance and FOREX management. The college aims at imparting quality of education in management by providing exposure through industrial visits, conducting guest lectures, seminars, case studies, role playing and management games to groom develop future managers. Students of management have to write records on skills and functions of management through discussion with managers of various industries.

The departments offer an Under Graduate Programme BBA, a post Graduate Programme MBA, and Research Programme M.Phil. The Department has 10 well Qualified Faculty Members with rich experience. At present the enrolled strength of the Management Department is around 180 Students. The department in association with industries and experts organizes conferences, seminars, guest lectures, student development programmes, industrial visits, etc., for the benefits of students so that they equip themselves to be a part of the society and make contributions.